A coolish, blustery day on the farm -- and lots to report.

We spent a good deal of time on the farm this weekend mowing and trimming and other beginning-of-spring chores. I started tilling last week, and the main garden is ready to go. My sister-in-law Jane, our Planter-in-Chief, says nothing should be planted until after Easter, so we still have a week to go. But it's all ready. Sally and Jane have already been to the co-op to buy seeds.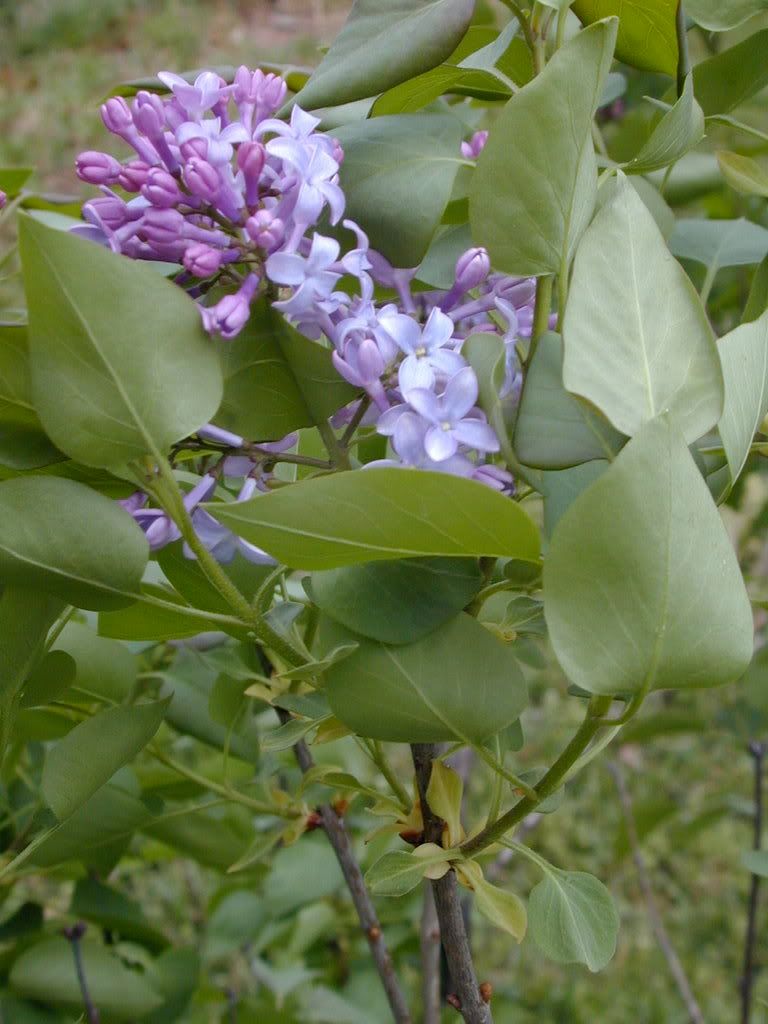 There's a lilac bush in the back yard that hasn't bloomed in 30 years. Last year, we made serious attempts at cutting back on the old wood to see what would happen. We weren't expecting much, but this week we noticed buds. And by this weekend, those buds had turned into blooms (right).

We will be doing more of whatever we did to the lilac this year. Sally says the blooms on the lilac are a good sign for our growing season. I remain skeptical.

Speaking of blooms, the blueberry bushes -- all five of them -- are alive and well. I tilled around them this weekend and remulched. They all have blooms, beautiful delicate little things. The smaller bushes, the three we planted in January, have the most blooms and the least height. The taller bushes, the two I planted last month, have fewer blooms but lots of leaves. All look healthy.

We have high hopes for these bushes. Both of us like blueberries a lot, and it would be thrilling if we could grow our own. Blueberries are a little hit-and-miss around here. Some folks don't have much luck with them, while others say they have more berries than they can pick. I need to get our soil tested because that may be the difference. Blueberries need a high ph, and I may need to do some adjusting.

The big activity of the weekend, however, was getting the beehives put together and getting the "beeyard" set up.


I first thought I would put the hives on a set of bricks, but I didn't like the stability of the bricks that I had stacked. So I took the bricks down and used some cinder blocks that I found around the barn and elsewhere. Then I placed a couple of planks across each stand. The blocks are old and chipped and a bit wobbly, but they're pretty stable now. I'm going to find some new blocks to buy, however.

The bees are due to show up on Tuesday afternoon. My friend Howard Kerr is going to get them on Monday and says they will be wanting a home on Tuesday. I hope that Howard has the time to help me get them installed in the hives since this is a multi-step procedure that I don't really want to try alone.

But, as of Tuesday, I can take the asterisk off my name on the right.

Here's a slideshow of how things looked this afternoon on the farm.